Did you know you can make your small kitchen appear bigger with these amazing kitchen colors?
Since the kitchen is thought to be the center of your home, it is no wonder that the kitchen color that you choose is going to be important! Let's be honest, the kitchen is one of the focal points of any house, as it is both a place where you cook and a place where you can gather with your loved ones.
Not only will your kitchen color be a focal point since a lot of people will be looking at it, but it is also going to be one of the places where you will be spending a lot of your time. This means that you need to make sure that the color is not only going to fit your aesthetic and desires when it comes to them but also fits well with your furniture.
You should not have to stick to only one color when it comes to decorating and painting your kitchen, but we all know that a small kitchen is a challenge, and not only when it comes to kitchen colors.
To help you make some great combinations, we have gathered some colors that will bring a burst of color, along with some color palettes that are going to make your small kitchen seem more spacious!
Have you ever thought about these kitchen colors as a viable option for your kitchen? Let us know in the comments below!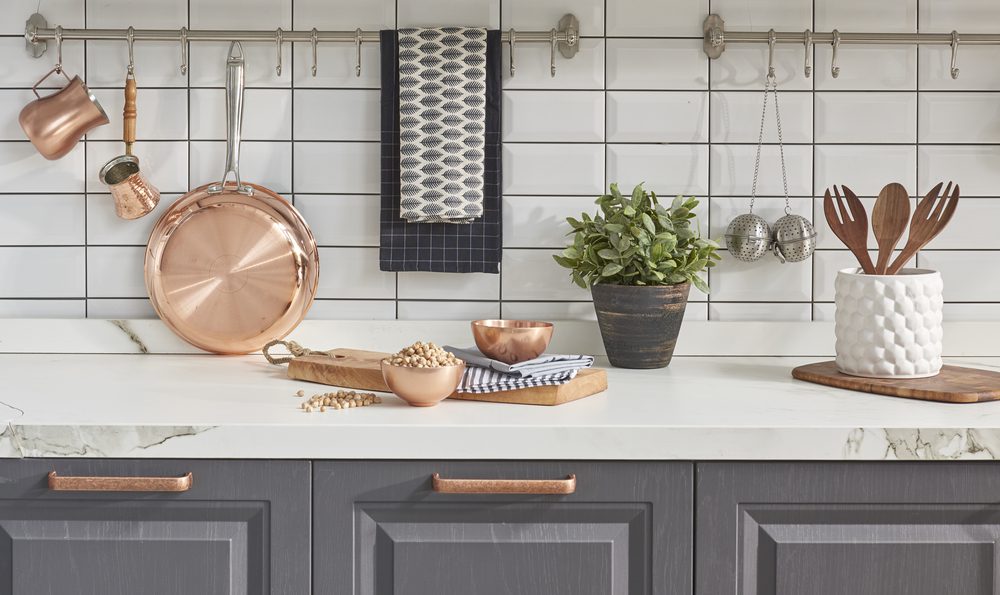 Slate Blue, Copper, and Steely Gray
This combination may seem a bit peculiar when you just read it, especially when it comes to kitchen colors, but in reality, they pair together very well. These metallic hues are great together, and they will manage to give your color scheme a more modern and dynamic look.
The metallic colors are great for an easy way to liven up your small kitchen, especially if you also end up varying the temperature of these colors. It is also pretty hard to mess up with these metallic hues, and you can mix and match to your heart's content.
The combination between stainless steel and copper is one of the most popular, due to how well the cool and warm tones combine. You do not have to paint your kitchen in these colors, but you can have your appliances in that steel gray color, with copper pots, farmhouse sinks, or even pendant lights installed to contrast with them.
Tie everything together with slate blue walls or cabinetry, and think about an accent in the presence of gray countertops, and you have yourself a beautiful color combination that will make your small kitchen appear more spacious than you ever thought possible!
Templeton Gray
You do not have to combine a lot of kitchen colors in order to make your space appear bigger, but you can also not only rely on one color to do so.
A great option is to opt for a deep gray color and combine it with the one color everyone knows to brighten and widen the space, light white!
The combination of these two will make your two-toned kitchen appear brighter and deeper, as the gray color and the crisp white will pair together really well.
You will open the space with the added color, and like that, you can easily create the impression that your kitchen is bigger than it is in reality.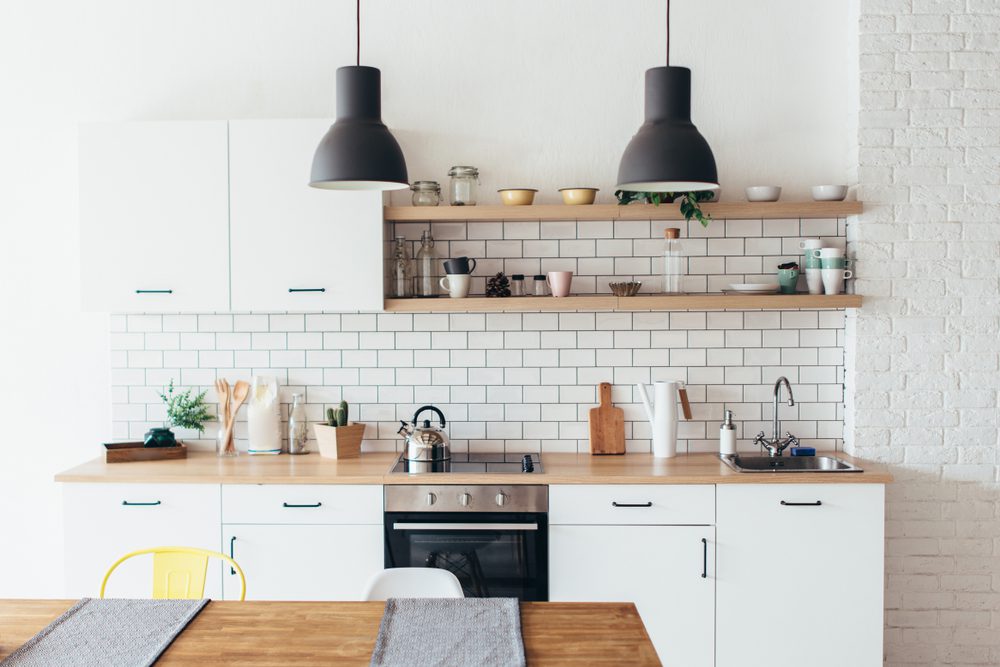 White, Off-White, and Natural Wood Finishes
If you have always dreamt of a white kitchen, there is no need to avoid going after your dream.
This is actually a kitchen color that is going to help you create the illusion of space, and you do not always have to rely on big, shocking, bold color contrasts to achieve the impression of a wide space.
Lighter colors are great when it comes to brightening up the space, and you can always rely on a white-on-white palette to make sure that your small kitchen is bigger than you could have ever imagined.
The best combinations that are going to both give you the white small kitchen of your dreams and also make the space seem way bigger than it is are the pairings between the crisp white and either a buttery one or a gray-toned white.
That way, you will create a seamless look that will mesh well together, and you will not have to worry about the hues clashing with one another.
To make sure that your kitchen continues to be inviting and appealing, instead of giving the impression of a white, surgical space, pair your white color palette with warm wood cabinets and floors.
The natural wood colors will ease the chill edge of the white surfaces and further open up the space.
White, Robin's Egg Blue, and Yellow
If you want to keep the white, but the combination with grey or with other white hues is not for you, do not worry.
We have the best kitchen colors that will bring out some playful color combinations while also opening up your space so that your small kitchen will no longer bother you in the grand scheme of things.
White is the best color when it comes to walls, the ceiling, and backsplashes, as the light is going to be reflected by the light color.
That way, the perimeter of your kitchen will recede and make the room appear bigger than it is. Going for a crisp white color is your best bet when it comes to achieving this lightening effect.
The next course of action is to make use of the furniture in the kitchen to bring in the contrast with powder blue and yellow. You can have the barstools blue powder coated and your dishware cherry yellow.
Likewise, you can always paint the cabinets a combination of the two colors or have them all be the same color (blue, for example) and then have only one single cabinet be another color (here, yellow) so that the contrast between the two colors will be the standout staple of your small kitchen.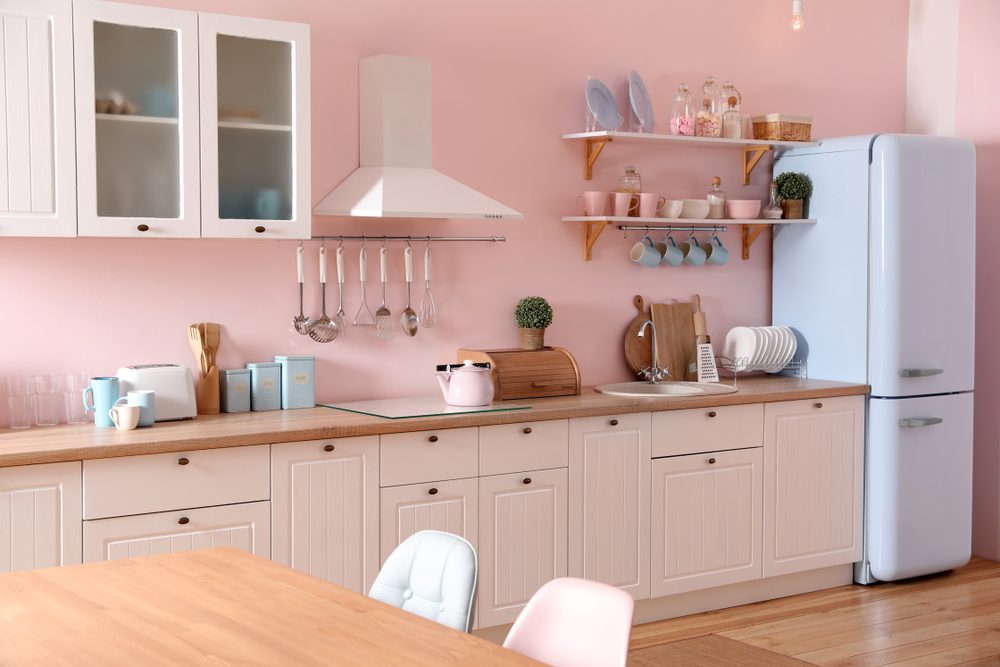 Rosé
A lot of the time, in order to hide the fact that the kitchen is small, realtors will share the kitchen and living space. That's why delineating your spaces is a great idea, even if you will leave the impression that the kitchen is small.
Like that, you can easily use a bolder color to create that divide without needing anything physical to differentiate the space. You can always count on a rose color for the kitchen walls, as they will open up immediately.
Not only is the crisp pink bold enough without being an eyesore, but the hue is generally soft and neutral enough in certain lights that it will give the impression that the kitchen is bigger than you thought and has a whole new personality.
Before you commit to any kitchen color, make sure you know what you have in mind. If you are not sure certain colors work, invest in a color swatch and mix and match until you are sure about it. This one from Amazon has a lot of colors, and it is more useful than you could ever imagine!
Scarlet, Gray, and Stainless Steel
You do not have to stick to the cool colors to be able to create the contrasts you desire. Small kitchens benefit a lot from red tones, and the vibrant hues are amazing for stimulating interesting conversations and appetites.
The best combinations for these red hues are generally made out of shiny metallics and cool greys, which will give your small kitchen a modern, sleek look.
You can balance the scarlet cabinetry with stainless steel fixtures and other light-reflective elements while keeping the walls a light gray to tie everything together. Likewise, you cannot go wrong with metallic hardware on the cabinets in a complementary color to the walls and vibrant cabinets.
If you are looking for other ways in which you can bring some color to your home besides paint, we recommend that you give some fruit trees a try. They are amazing, and you can also see the fruit of your labor. Literally! Check all of them out here!