The umbrella plant, or Schefflera arboricola, is a popular houseplant. With glossy green leaves and an unassuming appearance. But do these plants go dormant?
While the resilient nature of this little plant would keep it growing all year round, some theories about its seasonal cycles suggest otherwise.
In this article, we will investigate whether or not the umbrella plant goes dormant and what happens when it does.
Quick Answer: Do Umbrella Plants Go Dormant?
Umbrella Plants (Schefflera or Heptapleurum) do go dormant in winter. But, when light and humidity levels drop, the leaves will turn yellow and fall off, signaling that it is time for the plant to enter a seasonal rest period.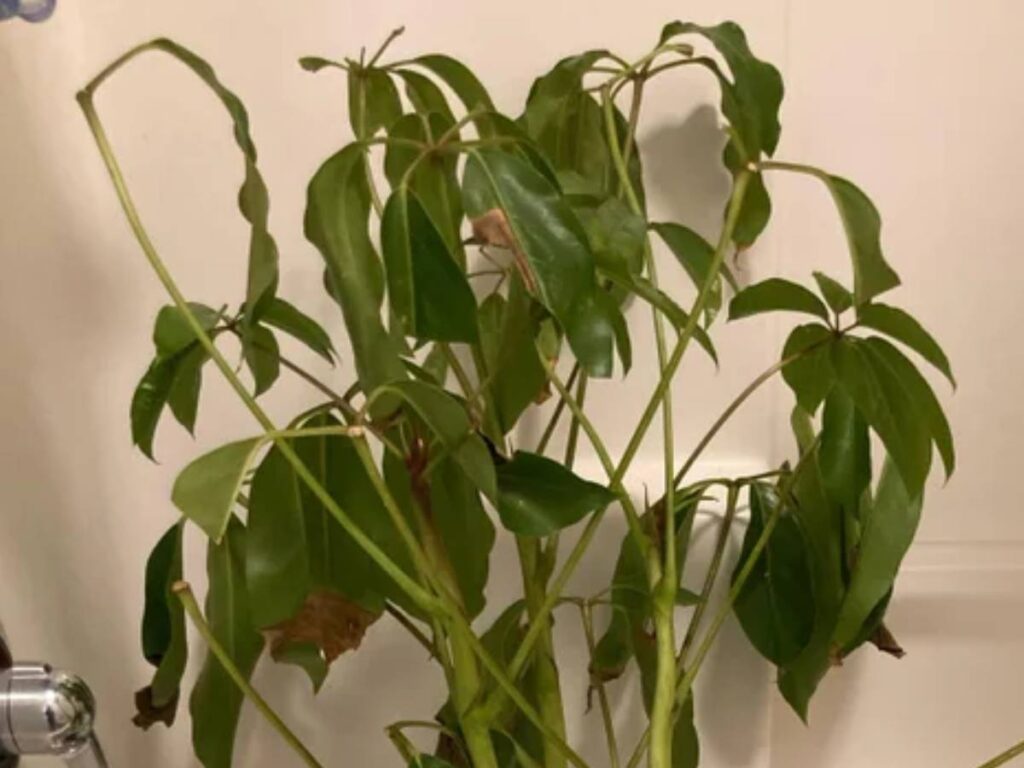 What Is Dormancy?
Although some may believe dormancy is not necessary for plant life, it can be a critical part of survival in some instances.
Dormancy is a state of decreased activity and growth experienced by many organisms during times of environmental stress. Animals, plants, fungi, bacteria, and even viruses all experience dormancy at one time or another.
Dormancy helps protect an organism from extreme temperatures or other hazardous environmental conditions.
For example, many umbrella plants will go dormant to conserve energy when faced with cold weather or drought.
This means they stop growing, and their metabolism slows down significantly until more favorable conditions return.
During this period, it's essential for them to have access to nutrients stored inside the roots, so they don't die off completely. Therefore, yes – umbrella plants do indeed go dormant under certain circumstances!
Role of Dormancy in Plant Health and Survival
Dormancy is an important part of plant health and survival.
Take the example of a deciduous tree in temperate climates: when winter comes, it sheds its leaves and enters into dormancy to protect itself from cold weather conditions.
Without this period of rest, the tree would be more vulnerable to disease and damage caused by extreme temperatures or lack of water.
In plants that go dormant seasonally, like umbrella plants, dormancy helps them conserve energy and resources while they wait for favorable growing conditions.
Thus, increasing their chances of surviving unfavorable conditions such as drought or severe heat. Here are four key benefits offered by dormancy:
It allows plants to survive environmental stressors like temperature changes or droughts without having to expend too much energy on growth-related activities.
By going dormant at certain times during the year, plants can take advantage of periods where there's abundant access to water and light.
Dormant plants are less susceptible to pests and diseases than actively growing ones.
In some species, dormancy also protects against heavy grazing pressure from herbivores.
Differences Between Dormancy and Death in Plants
The main difference between dormancy and death is that dormancy is temporary, reversible, and natural, whereas death is permanent, irreversible, and unnatural.
For example, when winter comes around, many plants enter a dormant state in order to conserve energy until spring returns with more favorable conditions for them to grow.
This process of entering dormancy acts as an adaptation that helps protect them from harsh climates or lack of food sources during the cold months.
In contrast, if a plant dies due to extreme weather or infestation, its cells will no longer be able to repair themselves or take up nutrients from the soil, marking it permanently dead.
What Causes Umbrella Plants to Go Dormant?
Climate changes, overwatering or underwatering, insufficient light, lack of nutrients, seasonal changes, changes in temperature, and even pests and diseases can all contribute to an umbrella plant going into hibernation mode.
Some gardeners find that overfertilization can shock their umbrella plants into dormancy too.
Overfeeding with nitrogen-rich fertilizers will encourage rapid growth, which is more vulnerable to damage from extreme weather conditions like cold spells or heat waves.
If your umbrella plant starts losing its leaves for no apparent reason, it's likely struggling due to one of these environmental influences and needs time to rest and recuperate before returning to good health.
Therefore, keeping track of your climate zone and monitoring the environment around your umbrella plant care is essential if you want it to remain healthy throughout the year.
Not only to watch out for sudden temperature swings and heavy rains but also to provide sufficient light exposure as well as select fertilizer doses appropriate for this particular species.
By doing so, you'll ensure that your beloved umbrella plant stays safe during harsher months when it might be tempted by nature itself to take a much-needed break.
Signals that An Umbrella Plant Is Entering Dormancy
The signs that an umbrella plant is entering dormancy are so unmistakable. It's as if the Universe is sending out a clear and loud warning! They range from subtle to perfectly obvious.
Leaves may start yellowing or wilting.
Stems become brittle and dry.
Growth stalls, and buds will not form on new branches.
Even more clearly, flowers will cease blooming in vibrant colors – instead of soft petals, they'll produce small withering seed pods.
There can be other symptoms too:
Discoloration of foliage.
Smaller leaves than usual.
Root rot due to overwatering.
These are all indicators that the plant has begun its dormant period.
When you notice these changes in your umbrella plants, it's best to take some preventative measures, such as reducing watering frequency and increasing sunlight exposure.
Furthermore, pruning away dead parts of the plant helps reduce stress levels for both you and your beloved greenery!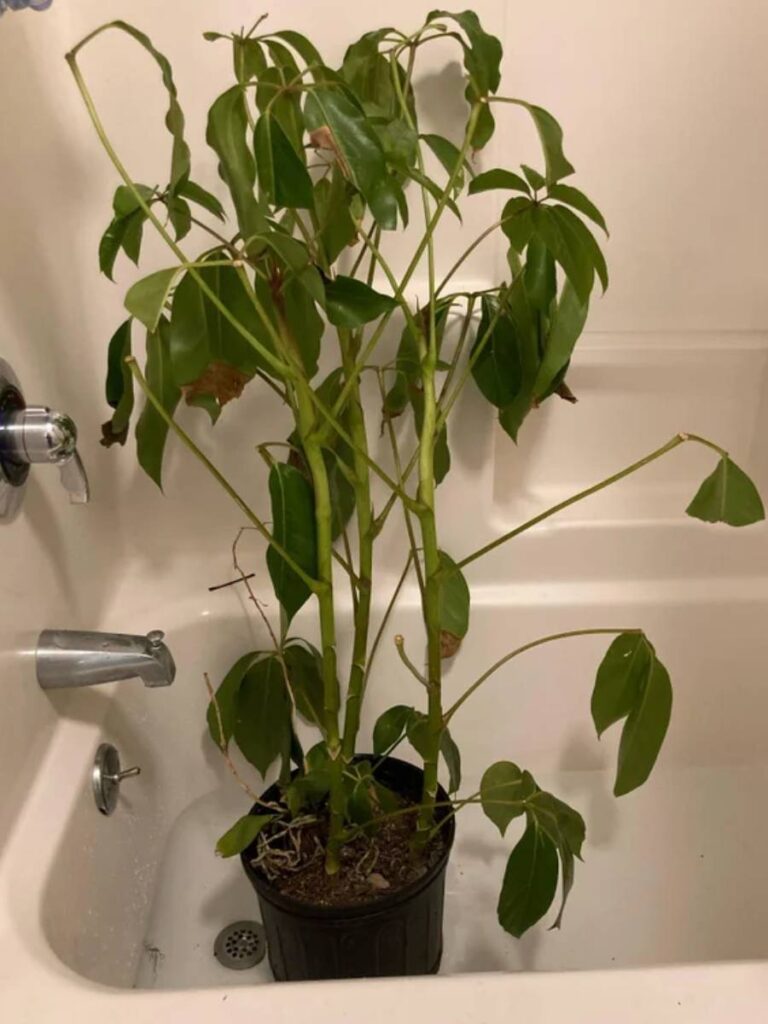 How to Care for Umbrella Plants During Dormancy?
When caring for an umbrella plant during dormancy, the environment is key.
Watering and light exposure play a vital role in keeping plants healthy.
During this period, you should reduce watering without letting the soil dry out completely. Too much water can lead to root rot.
As for light, provide enough that leaves don't yellow or become limp but not so much as to encourage new growth at an inappropriate time of year.
The best ideal light for Umbrella Plant during dormancy is between 50-70°F.
Fertilizing should be done sparingly if necessary. Pruning should also be done carefully and sparsely, as too much pruning also stresses the plant out.
Humidity levels are also important. Too low humidity will cause leaf edges to turn brown and curl up. High humidity can promote fungal diseases like powdery mildew.
The best ideal humidity is between 40-60%.
Other environmental factors, such as temperature and air circulation, may have unexpected impacts on your plant's health – watch closely!
How Long Does Dormancy Last for Umbrella Plants?
Umbrella plants can go dormant for a variety of lengths, depending on the species, age, and environment it is exposed.
Generally speaking, dormancy in umbrella plants lasts from a few weeks up to several months.
The exact amount of time your plant spends dormant will depend on how warm or cold the temperatures are, as well as the level of light exposure it receives.
Younger plants tend to have shorter periods of dormancy compared to older and more established ones since they are still in the process of developing their roots.
Temperature also plays a role. If temperatures are warmer than usual, then the period of dormancy may only be a matter of weeks. If not, then you might expect your umbrella plant to be out of action for several months.
How to Revive an Umbrella Plant After Dormancy
To help you get the best results, here are some important steps to take when bringing an umbrella plant out of dormancy:
1. Gradual Exposure to Light
Begin by exposing your plant to a bright, indirect light source for only a couple of hours each day and gradually increase it from there.
This will help prepare your plant for growth while not shocking it with too much light at once.
2. Gradual Increase in Watering
As new growth emerges, the plant will need more water – start off lightly with watering, and as time goes on, begin increasing the amount of water given each week and be sure to stay away from overwatering, which could lead to root rot.
3. Fertilizing
Once you start seeing signs of new life emerging in your plant, it's time to fertilize!
Choose a balanced, water-soluble fertilizer that follows manufacturer instructions for application and gives your umbrella plant the nutrition it needs!
4. Keeping Away from Stressful Situations
During this process, make sure to keep your umbrella away from any sources of stress, such as cold drafts or strong winds.
Avoid sudden temperature changes that could harm the delicate new leaves starting out their journey.
5. Maintain Proper Humidity
Keep humidity levels up by misting regularly or placing humidifiers near the plants, so they don't dry out. This can impact the plant greatly if not given attention!
6. Pruning
After enough new growth has surfaced, it's time to begin pruning the umbrella in whatever way you would like.
Be careful not to overdo this. Because too much trimming can also have negative consequences on fragile stems that aren't yet established enough!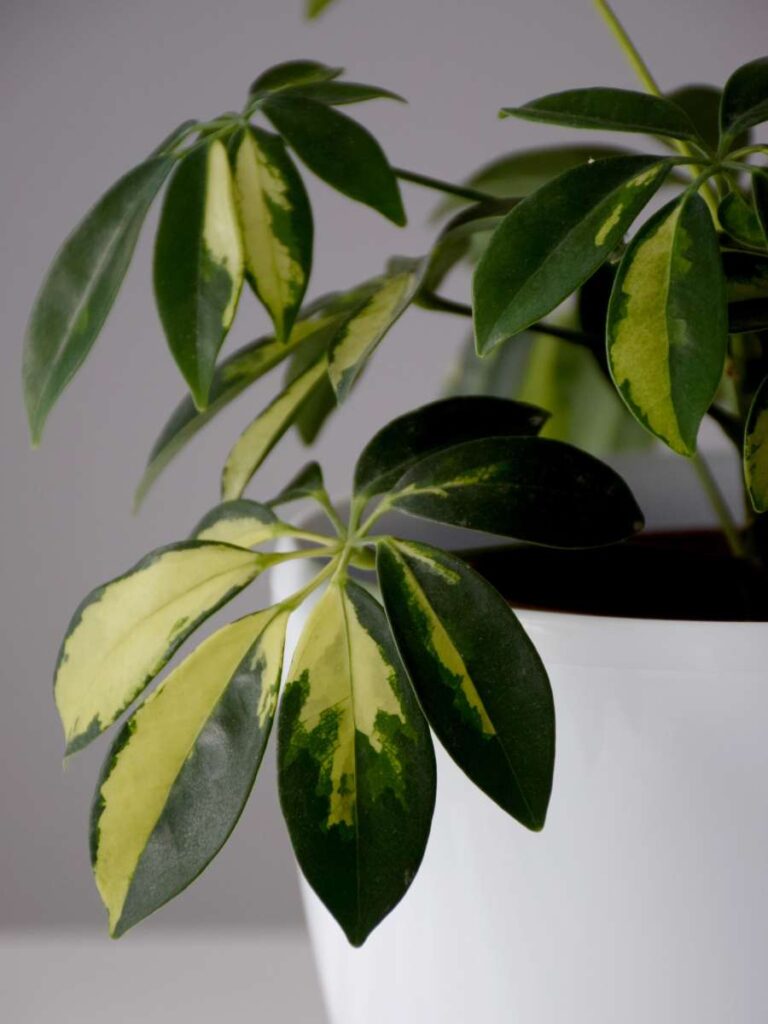 Prevention Of Future Dormancy Through Regular Maintenance
When it comes to umbrella plants, there are a few steps you can take to make sure they stay healthy and vigorous. Here's what you should do:
1. Water regularly
Umbrella Plants need regular watering for optimal growth and health.
Make sure to check the soil before each session.
If the top inch or so is dry, it's time to give them some H2O.
2. Provide ample light
These plants love lots of bright indirect sunlight throughout the day. Ideal for at least 6-8 hours per day.
If you don't have enough direct sunlight available, consider using an artificial grow lamp instead!
3. Fertilize once a month
Giving your plant food will help ensure that your umbrella plant stays strong and vibrant during its growing season.
Use a balanced fertilizer like 10-10-10 every thirty days between spring and fall for the best results.
These three simple steps are all you need to keep your umbrella plant thriving year after year without entering into dormancy.
How Do You Take Care Of An Umbrella Plant In The Winter?
In the winter, when temperatures dip below 50F (10C), it's important to take care of your plant properly so that it can survive and thrive during colder months.
The best way to do this is through regular maintenance: pruning dead or dying leaves, providing adequate water, and keeping an eye out for signs of disease.
If possible, move the plant away from drafty windows or areas with cold airflows, such as doorways or vents. You may want to bring your plant indoors if necessary.
However, make sure there is enough light and humidity for it to grow healthily.
Fertilizing once a month will help ensure that your umbrella tree has all the nutrients it needs throughout the season.
Conclusion
Umbrella plants are known to become dormant during the winter months. They will begin to re-sprout in the early springtime.
The key is to keep your Umbrella Plant moist and give it adequate light without over-exposure.
With proper care, your Umbrella Plant can continue to produce lush greenery year-round and provide you with a delightful addition to your home or garden.