How can you clean your air conditioner on your own without spending an arm and leg by calling a professional? 
Let's face it! A major factor in creating a peaceful haven of comfort in your house is your air conditioning system. Your unit may need to work harder over time to reach the same amount of cooling as it formerly did. Similarly, with time, your heating, ventilation, and air conditioning (HVAC) system may lose some of its efficiency.
One essential component of maintenance that helps prolong the life of the system itself is how often you clean your air conditioner. This results in a smaller energy cost and less expensive repairs. Check out our advice below if you're curious about how to do it yourself.
Before starting the step-by-step guide on how to clean your air conditioner, let's learn how often you should clean it.
At the absolute least, make sure your air conditioning system is cleaned at the beginning and end of each season. The ideal time to plan your house's cooling is before it becomes too chilly. This clears out any accumulation and helps prevent mold and mildew during storage.
Additionally, every time a foul odor emanates from your unit, you should clean your air filter. You should clean the inside if the smell continues. In the long run, this will keep it operating better. Now, let's see how to clean your air conditioner on the inside.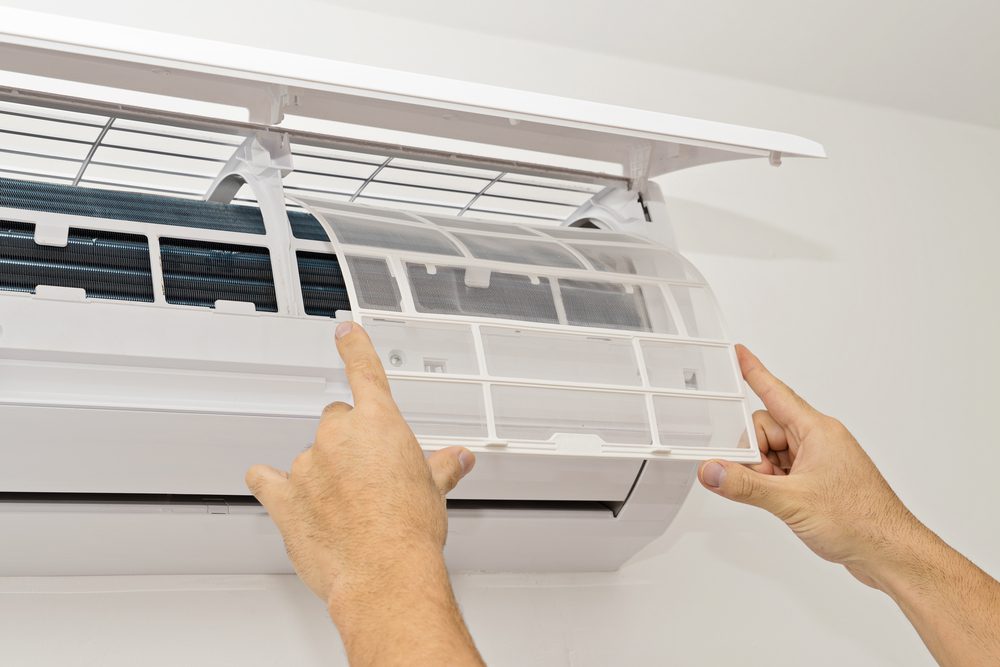 1. Unplug it
Since there are several moving components in air conditioners, safety is the top priority; therefore, you should switch off the electricity at your breaker box. This implies that you won't have any lighting, so this activity should only be done during the day. If your indoor unit is located in a dim area, such as the attic, you should provide enough lighting.
2. Open the air conditioner unit
There will be an evaporator coil door on your blower unit. Depending on your unit, whether it's old or new, for some designs foil duct tape removal may be necessary. Usually, a small number of bolts or screws secure the door.
3. Remove and clean the filter
After you unplug it and open the AC unit, the next thing you must do is remove the filter. Your filter is usually found near the front of the unit, whether it is an outdoor unit or a window air conditioner. They usually just give up or slide off.
Use the dusting brush on your vacuum to gently remove any remaining dust or debris from the screen.
Tip: If you want to clean your air conditioner thoroughly, besides taking care of the dust, you can also use a mixture of baking soda and water over the screen if any smells are detected. Use a spray plastic bottle for this.

However, it's also important to know that the filter should be washed by hand only. A lot of people made the mistake of putting it in the dishwasher. During the washing cycle, the carbon filter in your air conditioner might get damaged.
4. Clean the air conditioner evaporator coils
Now that you're done with the filter, you're ready to go to the next step of the cleaning. This one is a tad more complicated, so be aware of the instructions. Dust off the coil with a soft brush, if you have one. The particles that are present in your house will be included in this dust. If you're prone to allergies, you might wish to wear a mask during this procedure.
How can you clean your air conditioner without damaging the pieces? An inexpensive, no-rinse coil cleaner from your neighborhood hardware shop makes the ideal cleaning option.
This spray gathers foam before dropping into the drain pan of the unit, carrying dust and debris with it. Apply the foam as evenly as possible, making sure to reach all the tiny spaces that are out of reach for your hands.
If it's possible, try to clean your air conditioner during warm days so the coils can dry themselves easily as soon as you turn on the AC system.
If shopping from store to store isn't convenient for you and you prefer ordering online, we have good news for you. This Maplefield Heavy-Duty AC Coil Cleaner, 1 Gallon, is only $27.99, and it's everything you need to properly clean your air conditioner.
5. Clean the drain
Phew! Congratulations! You're done with the coils! What a nice job you did on your own because let's face it this isn't an easy process! After the coil cleaner has finished its work, empty the drain pan. An excellent place to start is with soap and hot water; bleach aids in sanitization.
Choose a 50/50 solution of water and bleach. To ensure that the solution is clear, pour it down the drain. A more permanent solution to prevent algae growth in your drain is to buy AC drain pan tablets, which are available in most hardware and home improvement stores and don't cost a fortune!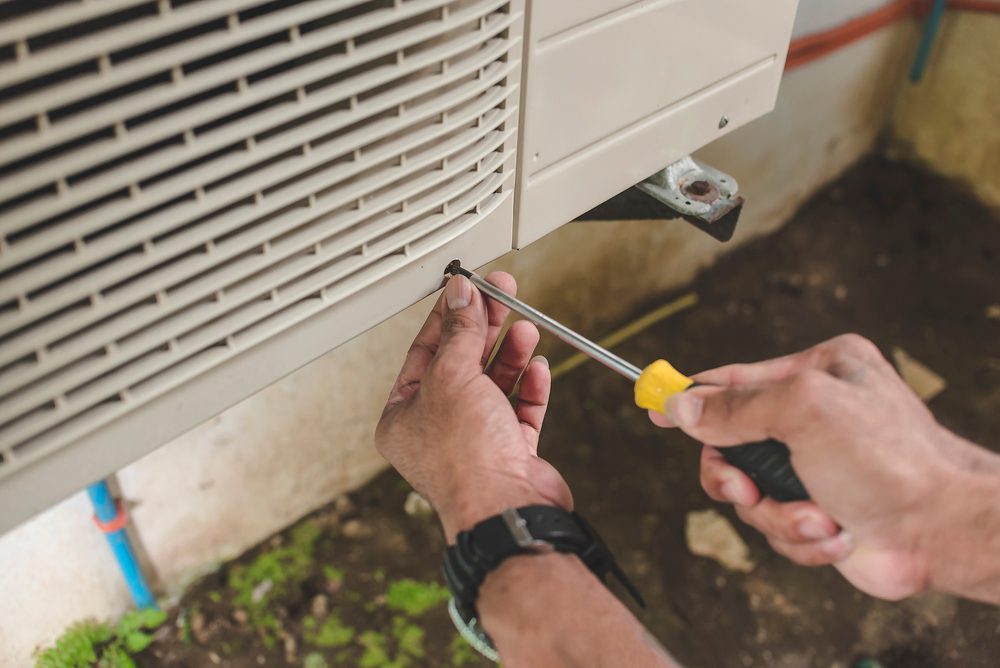 6. Close the access panel
The final step of the cleaning process is here! After you've done all the tasks you're supposed to do to clean your air conditioner, you have to close the access panel. For a time, turn the unit on to dry everything off. There should be a clean, fresh scent in the air.
Using the same screws you removed at the start of the process, replace the access panel. Use HVAC metal foil tape, if you have any, to seal the access panel's top and bottom. Keep the manufacturer's label visible since a technician might need it to service or fix the device.
This is all that's required for a routine cleaning, although you can run into difficulties that are beyond your ability to resolve. In that case, don't be shy and ask for help. It might cost a bit, but it's worth the money!
Bottom line
If you want to have your air conditioner cool you off during the scorching summer days, it's important to clean it regularly. To avoid becoming too dirty, it's better to clean it each spring or even mid-season (especially if you use it very much during the summer).
According to professionals, you must also clean the filters at least every two or three weeks (if you don't remember how it should be done, scroll back to the third point of our article). In case you notice leaks or any other malfunctions regarding your AC system, it's better to avoid cleaning it on your own and ask for professional help.
Furthermore, especially if you bought your AC in the past year, to avoid canceling the manufacturer's warranty on it, make sure you follow the cleaning instructions and precautions listed in the handbook they gave to you. If you don't have a manual, visit their website and search for your air conditioner model.
Now, the question is how often do you clean your air conditioner? Tell us in the comments.
Hey there! If you're new here and enjoyed reading this article about cleaning your air conditioner, don't leave without subscribing to our page. We promise to deliver only the coolest articles for you. To prove we're trying our best, The Home Team recommends you also check out 18 Ingenious Ways to Prepare Your Yard for the Winter.